So where do you begin to prep?
The answers are simple…but they are not easy.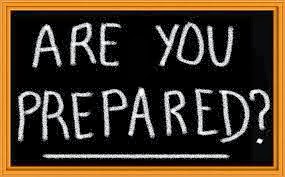 The first place to start prepping is in your mind.  If you have the mindset that there are agencies out there designed to help disaster victims…then you are destined to be a victim…waiting for aid.  If you realize that sometimes help doesn't come as fast as we want, or in the way we want, so we need to do the legwork to keep our own family safe and comfortable if problems arise…then you will overcome.  Who you want to be is your choice…you choose with your action or lack of it.
I provide the information to be informed.  I provide the links to products that will help you.  I will help you research questions and help you resolve problems.  But the motivation and determination is on you.  The idea that my kids could be left cold and hungry is my motivation.  I will skip a new gadget or cable tv so that I have the money to provide food and heat for my children.  That is my motivation.  You have to decide on your priorities.
You have to get your finances in order.  Most people don't feel like they have 'extra' money to prep.   I actually make instant gratification choices.  If I take the cans to the recycling or have my change counted at the bank, I take that extra money and buy a case of food or a case of water or a bottle of bleach.  Whatever amount I got, I invest it immediately.  I have a list of goals, and  I keep track so I can check things off my list.  
Some preppers feel that you must have supplies for years, or you have failed.  That's silly.  Anything you do is better than nothing.  When I started, I made sure that we had enough food, water, soap, toilet paper, coffee, heating and cooking fuel, and light for three days.  Then I made sure I had a good supply of all medical supplies.  I made sure that everyone in my house had sturdy boots, heavy coats, extra hats and gloves and socks.  Then I made sure we had a basic camping kit.  Sleeping bags and pillows for everyone, a tent big enough for all of us, cast iron pans to cook over a fire.  I made sure my car was in good repair.  I made sure each car stays above 1/2 on the fuel gauge.  Then I went back and started adding to my food and water supplies, expanding my supplies to a week then a month.  I started to learn how to do survival skills.  I learned to use hand tools.  I started selling some of the stuff in my house that I don't use, and using the money to buy things that will help me now and in case of emergencies.  There are a ton of things you can do with little or no money…if you are willing to do some work.  
I am up to about three months.  If we had a blizzard that knocked the power out and we were snowed in, we have enough wood, food, water, medical supplies and dog food to be warm and safe for 3 months.  I also have enough books, games, and distractions to keep everyone sane.  So I feel pretty ok about that.  If there was a wildfire, and we got evacuated, we are prepared to pack and go in under an hour, and be ok.  I feel good about that.  I know that in the event of a zombie apocalypse or complete economic crash, I am not totally safe, but I have prepared for the most likely issues in my area first.  That is the best I can do right now.  This prepping also gets me more ready for a larger disaster.  You can't do everything.  Everyone can't build a bunker…I can't.  But I can do the best I can with the resources God has given me.  I will not watch my kids suffer because I spent money on downloads and lattes, not canned food and heaters.
Just do something everyday! We will be discussing action steps that will get you and your family ready for any emergency situation.  I will also show you how to use what you have to make the best in bad situations.  Thanks for checking in!