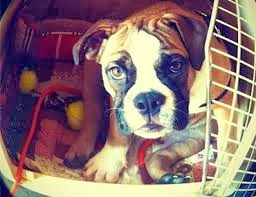 Being prepared extends to your pets as well. People care deeply about there pets welfare, but often in the flurry of last minute preparations people forget to consider their animals.    If you have smaller pets,  it's a bit easier to grab stuff at the last minute.  Older pets or large animals need to be planned way ahead for.  Pet preparedness is important to your prepping plans.
Make sure that all animals are vaccinated currently.  Make sure that health issues are kept current. Horses have good shoes.  Dogs have clean teeth.  Whatever you pet needs.
 
Make sure you have pet travel crates that your pets can be comfortably moved in.  Make sure there is enough room in the crate for your pet's bed.  A touch of home is comforting.  I prefer a rigid crate that is more like a box,I can load it and throw stuff on top of it. But you need what you are comfortable moving.  If you have a larger animal, make sure you either have a trailer to move your animals or make arrangements with someone who has a trailer or a safe place for them to stay.  Fish are about the toughest one to figure out.  If your tank has to have heaters, lights, etc may require its own generator.  If you need to move them, do you have a tank that will fit in your car, that the fish can be put in?  Do you have a lid that will keep the water in the tank while moving.  You need to make a test run.  Does you equipment work for you?  Are there any changes you need to make?
 
If your pet requires medicines, stock up.  Make sure you have at least 1 month's supply.
 
Have a few favorite toys, in the crate for traveling.
 
Keep a leash and a dog screw stake in the crate, so you have it anytime you travel. You need this for cats too, since a litter box is hard to travel with.
 
Make sure you have enough food for a month as well.  It's important to keep enough food on hand, and rotate it regularly.  Just keep two bags on hand and use the older one first.
 
Make sure that you have water enough for several days.  Water that your pet is used to drinking will help life stay normal, which keeps bowels calm too.  The last thing is a dog with squirty poop in the middle of a disaster.
These tips will help you be prepared to take care of your pets in an emergency.  Go forth and prepare!