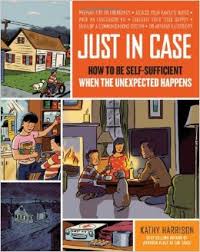 The Bible says what will you gain from worry..nothing.  You won't grow a single hair, or change the color from gray to black…so why worry?
But have you been watching the news?  Does it have you worried?  Are you afraid of what crazy weather will be on your doorstep tomorrow?  Good!
Use than concern to spur you on to action.  Use that fear to move your feet.  It is a gift.  A wake up call…so get busy.  There are tons of resources on the internet for prepping…and there are tons of books written.  I was actually considering writing a book that would dovetail with my site.  A preparedness book for families not a run to the woods and live on leaves book.  Then I went to the library and found that exact book!  "Just in Case" is a great book for beginners.
"Just In Case" by Kathy Harrison is an amazing down to earth book that will help you with great ideas for all your basic needs in case of ordinary emergencies.  It is not for wilderness survival or the zombie apocalypse.  It is how to prepare for bad weather, wildfires and personal disasters that can strike at anytime.  I was so excited to see a book that addresses preparedness planning in a way that most people will actually do.  I probably won't be ready to live off the land totally…but I could live off the grid.  How about you?
Have you thought about how you would evacuate if a gas main blew down the street?  What would happen if a water main blew, and you had no water for days?  There are a thousand disasters that could happen to you tomorrow.  You would drive yourself crazy worrying about every what if, but with a little forethought and elbow grease you could be able to deal with almost anything.
I only recommend books I have read, and I am loving this one!  I found it in the local public library.  It is a treasure trove of practical advice.  Some people think that e-books are the best way to go, but what happens when you can't plug it in?  Buy this book and get started now.  I could write a huge review, but you could just buy the book.  It is a fast read through, with cute illustrations and lists to get you started on your way to preparing your home and family.