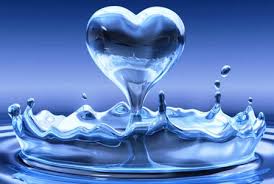 Water is important to life.  There is no way around it.  We as a Americans are so dependent on water, that we don't realize how much we consume in a day.  It is important to know how to run your house without water if the need arises.  It is also important to have water stored in your home.  It really is a matter of life and death.  Have you thought about your life without tapwater?  It is important to consider.  Do you have water stored?  Do you have water near by?  Can you flush the toilet if the power goes out for a little while?  Only you know the answers to these questions.
 I believe that everyone should have water stored in their homes.  You never know when the water treatment plant will fail, and they have to shut it down to fix it.  Or runoff fills the reservoir with murky water that will take days to settle before its ok to drink.  Can your family be ok for 3 days if there was an emergency?  There a a couple of things you can do this week, that will vastly improve your safety and stability.
Buy 1 case of water every time you go to the store, even if its just ran in for milk or something.
Save empty jugs.  Wash them out.  Let them sit in your dish drain over night.  Then fill them with water and put them away.  I save any plastic bottle 2 liter and up.  

NOT MILK OR DAIRY JUGS.

 Juice, pop, water are all good.
Learn how to empty your water heater and do it annually for practice.
Know where the water shutoffs for your home are located.  And make sure they work.
If you do these simple things you will be farther ahead than most of your neighbors, if disaster ever strikes.
Please check back often.  We will have posts of how to acquire water in an emergency.  Best practices for storing water long term.  We will also discuss filtering.  Stay tuned.