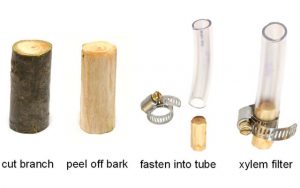 Here is a low cost easy water filter that you can make anywhere.  It can also filter up to 99% of e.coli and other nasties out of the water.  This method of filtering can filter up to 4 liters of water per day.  If your water needs exceeded that you could set up a couple filters to run simultaneously.
An MIT team experimented with a piece of sapwood, they used white pine, to create a water filter that could stop e. coli and other harmful pollutants clear down to a particulate size of 70 nanometers.  The xylem layer which naturally moves fluid in a tree, filters water as it passes through.  This filter is cheap, fast, easy and can be replaced every few days with no effort.
"Today's filtration membranes have nanoscale pores that are not something you can manufacture in a garage very easily. The idea here is that we don't need to fabricate a membrane, because it's easily available. You can just take a piece of wood and make a filter out of it." – Rohit Karnik, associate professor of mechanical engineering at MIT
I am super excited about this.  I know this is something that anyone of any skill level can do.  It is also a cool project to do with kids.  It will show them that this prepping thing can be an adventure, not just a chore.  Have fun with this.  I have even seen people use food colored water to show how the filter works.  It's awesome!