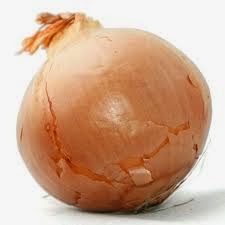 Can an Onion Stop the Flu? In my world I can say yes.
I have set onions in each bedroom and each main room in my house for several years. So have people I know. My mother-in-law heard this tip on the Dr.Oz Show years ago. The onion is a sponge that absorbs germs and viruses from the air. I know how kooky it sounds, but I have seen a dramatic difference in the amounts of illness in homes that do this simple technique.
People have been using onion poultices to draw sickness out of the body. My grandma used to mash up onions and apply it to your chest if you had an infection in your chest. The onions draw the infection out, and the aroma clears the sinuses for sure!
Many people now want to pop a pill or get a shot, all quick and easy, and go about their day. I want a solution that gets the germs OUT of my body or keeps them out of my air. I believe in preventive medicine and I believe in using the things that God has given us to their full potential. We live in an amazing world, full of amazing plants and rocks and animals that can keep us healthy, and we spend billions of dollars and vast amounts of time quantifying them to make a pill?! Do what works. Heal thyself because drug companies are out for profit, not health. (soapbox moment)
Set an onion on each nightstand by the bed. If filters the crud out as you sleep. When an onion starts to get soft and smell, it is full of germs, pitch it. I have had onions around my house all winter for years. Some winters, I will go all the whole season and only one onion gets soft. Other years, I am replacing them almost weekly. The bedroom ones and the one on the table by the TV remotes are the ones that get soft first in our house. These are the rooms that we sit in the most.
I know this sounds silly, but if you can spend $10 a season on some onions, to prevent colds from incubating in your home's air, why not? If setting an onion on your desk at work might prevent you from getting the office bug of the week, why not? If setting an onion on your kids' nightstand will protect them from the crud de jour at school, why not try?
Set some onions around your house, and prevent the flu. JUST DO IT!