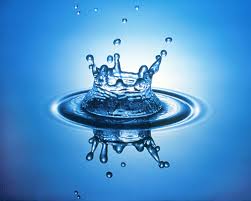 Untreated water could be any water that comes from streams, rivers and lakes. Water might be contaminated by pollutants such as chemicals or sewage, as well. Naturally occurring water can contain bacteria, such as Giardia.  If an animal could have pooped in it, it could have Giardia.  You can't see it, but even a clear stream can have it present. It can cause digestive issues, like screaming diarrhea. In some developing countries there are potentially fatal diseases, such as cholera. Water that looks clean can still contain harmful bacteria, which are invisible to the naked eye. It's important to purify your water if you suspect it has not been treated.  It may look safe to drink, but are you willing to be your life on it?
There are many ways to filter water. Which emergency water filter is the best? Some depend on time constraints and some on personal preference.  If you need water now and you don't care about looks, you can just boil it for THREE MINUTES.  That means get it to a rolling boil and leave it for three solid minutes.  It would be safe to drink but would still have floaties.
If there is no heat source available, you can use plain household bleach (no perfumes or dyes) to treat water.  You can use 5 drops of bleach for each half gallon of water.  Put the water in a clean container, add the bleach and stir.  Let the mixture sit for half an hour.  This will kill most nasties.  It is not as effective as boiling but it is a whole lot better than nothing!
Award-winning LifeStraw water filter is a must-carry tool for  camping, travel, and emergencies; no disaster kit is complete without it

Filters up to 1000 liters of contaminated water without iodine, chlorine, or other chemicals; does not require batteries and has no moving parts

Removes minimum 99.9999% of waterborne bacteria, 99.9% of waterborne protozoan parasites, and filters to 0.2 microns; surpasses EPA filter standards

An alternative to iodine tablets and bigger purifiers, it weighs in at 2 oz for ultralight portability, and has a high flow rate for drinking from the source. Perfect for touristing trips to Mexico or the jungle!

Comes in a sealed bag, perfect for storing in a bugout bag, purse or camping gear

measures 9 x 1 x 1 inches.BPA Free materials
Sawyer Products SP105 Mini Water Filtration System
This amazing little filter system is a marvel.  It still fits in the palm of your hand, it has the same filtering capabilities for nasties.
Ideal for outdoor recreation, hiking, camping, scouting, domestic and International travel, and emergency preparedness

High-performance 0.1 Micron absolute inline filter fits in the palm of your hand and weighs just 2 ounces; 100% of MINI units individually tested three times to performance standards by Sawyer

Attaches to included drinking pouch, standard disposable water bottles, hydration packs, or use the straw to drink directly from your water source

Removes 99.99999% of all bacteria (salmonella, cholera, and E. coli); removes 99.9999% of all protozoa (such as giardia and cryptosporidium); also removes 100% of microplastics

Filter rated up to 100,000 gallons; includes one Sawyer MINI filter, 16-ounce reusable squeeze pouch, 7-inch drinking straw, and cleaning plunger

Katadyn Hiker Microfilter

The Katadyn Hiker is a tried and true.  It is a slightly bigger unit.  It pumps water out of a creek through the filter and into your bottle.
Proven protection against bacteria and protozoan cysts down to 0.2 micron with pleated glass-fiber filter media

Activated carbon in the core of the filter improves the taste and reduces chemicals in your drinking water

The field cleanable filter protector screen extends the life of the cartridge in challenging conditions

Long-time trusted option for backpackers with it's ultra-light 11oz, compact size and compatibility with hydration bladders

Transparent design allows you to see the filtration working
These three are all good choices for effective filtering in any situation.  They don't require a heat source to treat water, and they filter a relatively large amount of water for a long time.  And each is well below $100.  Some are under $50.  That is a no brainer.  You need to have some way to keep your family's water safe in an emergency.   And these are all an amazing value.