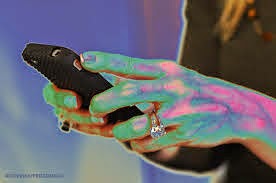 I will give you a layman's definitionof a digital footprint.  A digital footprint is your presence in computers, in databases and on cameras.  Do you want help erasing your digital footprint…or at least shrinking it?
While most of the world is throwing themselves into devices that make their world easier, some have begun to realize that with all this convenience comes drawbacks.  For every thing that your computer does to "remember" you, there is a database where that information is stored.  If a hacker cracks that database or they choose to sell your information, you lose control of it.
Supermarkets are a prime example of this.  Let's say you sign up for a rewards card.  You save a few cents on gas and get a few coupons.  In exchange, they have your name and personal info, your food preferences, every credit card you have ever used to pay for gas or groceries.  And all that information is available all over the country, just in case you travel.  That bothers me.
I shop at my local grocery for most of my shopping, and
I have gone back to cash.  I don't have to worry about a cyber thief stealing that.
Another place to watch is online.  Obviously if you are trolling around in chatrooms you are in jeopardy.  But what about Facebook?  Or Twitter?  These sites are a treasure trove of info.  Even if your security settings are high, pictures that anyone can see show you fishing or golfing.  A savvy scammer can come up with a con with those things as the bait.  Or maybe your grandkids?  Did you know there is facial recognition software on FB that if anyone is labeled in a pic ANYWHERE in FB  it will be identified in a pic that's posted.  It's suppose to make posting your pics easier ,but if I post a selfie of me at my kids soccer game, and label me, if I am at a bar with friends, someone could take a picture of our group and put it in FB, and it would give them our names and profiles.   How creepy is that?  It will also identify children.  Imagine a predator in a park taking pics, to get the child's name off Mom's FB page?  I'm not saying that you can't be on the computer, I just want you to be aware of how easily information is spread these days.  It is important to be aware and vigilant about the sites you frequent and and the amount of info you make available.
One of the easiest hacks anymore is wi-fi.  Anything that is wireless can be attacked.  Wireless printer, hotspots at a cafe, just to mention a few.  Never do banking or go to your credit cards sites from a hotspot.  You have no idea who else is on there, and you are very vulnerable there.  This includes Alexa.  When your house can be controlled, your house can be hacked.  The camera that you use to watch the postman, can be hacked to watch you.  The door you unlock for your kids remotely can be hacked to let in intruders.  You have to balance convienience with safety and privacy.
Be aware of your digital footprint and start to downsize.  Be responsible for yourself.  I don't want people in my business so I don't put my business where everyone can see it.