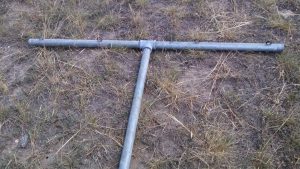 Today I'm going to tell you how to build outdoor clothesline poles.
A dryer is one of the biggest energy hogs in your house.  And making a set of these poles is relatively simple.
Normally, you see two big "T"s  in an old farm yard consisting of two pieces of old pipe welded together.  I am guessing that many of my friends out there don't have access to a welder.  My dad made me a set of clothesline posts that he put together using threaded pipe and fittings.  You can buy this at any hardware store.  It is a bit more expensive, but it has advantages.
First, it doesn't require a welder.  Second, you can buy all the pieces, and store it in a labeled box until you want it.  You don't have to have assembled posts in your yard now.  But you will have everything you need, if an emergency should strike.
To build this pair of posts you will need:
4 – 2′ sections of 1″ pipe (for cross arms)
2 – 1″ T' s (for putting cross arms together)
8 – 1″ eyebolts  with matching nylocks (for holding the line)
2 – 1″ upright posts
4  – lengths of clothes line
2 – 1'+ lengths of 3″ flat strap metal ( optional)