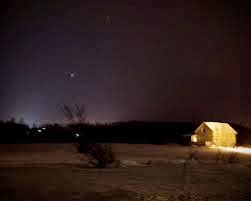 How will darkness protect you?  Consider for a moment a situation where the power has gone out.  If the power grid is down, and your house is the only one on the block lighting up the dark, you will be a beacon.  The light will attract people, many extra mouths looking for help.  Possibly looters and those who would take the things you have prepared for your family.  It is important that you protect your home from intruders with darkness.
I am not saying you shouldn't help others.  You should plan to help others, but you should not put a target on your home.  Investment in blackout shades
 now, if you can afford them, or enough heavy blankets to nail up if need be.  It's also an extra layer of insulation in cold conditions.  If these two options are too expensive right now, keep a box of heavy mil garbage bags for 55 gal drums
 in your home.  These bags can be nailed or stapled up to block the majority of light.  These bags will come in handy for many things.  Also consider getting a couple rolls of duct tape to seal the edges.  If you can't afford that, have some black spray paint
available.  Make sure you use all these things inside the house, so they can not be removed from the outside.
Darkness is your friend in this situation.  Remember that these are simple steps that are very do-able.  If you have these things available, you and your home will be much more prepared in the event of any emergency.