If you have small children or pets that you are concerned about, you might consider  a fireplace safety fence for your home.  These gate/fences are built to withstand abuse.  I like the ones that are metal,to me they  hold up to the heat safely.  Most are also capable of either stretching out to go across the front of a fireplace or attach back to itself, creating a circle around a smaller heating unit, but that is not a feature on all of them. Make sure the one you pick works for your situation.  My sister had one when her kids were smaller.  It gave her peace of mind that if she ran for the phone, she wouldn't come back to a scorched kiddo.
If this is of interest to you, I will include some options that I have found for your review.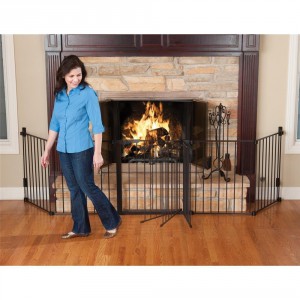 KidCo AutoClose HearthGate (Black)
Black Heavy duty steel construction
Non-toxic finish

Basic gate width: 132″ (fits 6′ hearth)

Gate Height: 29.5" (when gate is mounted)

Installed Height: 31″ (height needed to install hardware)

Optional Extensions: G4301 = 9″, G4311 = 24″; unlimited number of extensions can be added
This gate provides maximum safety for use around fireplaces of any  shape or size Unique handle design applies Magnet-Lock Technology, a dual magnet design that automatically draws the door closed and guarantees it locks each and every time! Hold Open Feature secures the door in an open position and suspends the auto-close function; allowing free traffic flow until it is pushed closed Two way door Joints easily rotate and lock for secure attachment Quick release, adjustable wall mount hardware 30" door section can be placed anywhere within the layout 23" extra wide door opening HearthGate can be connected to use as a freestanding play area, with the addition of optional extensions .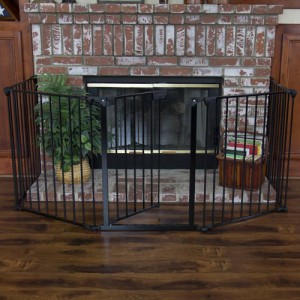 Best Choice Baby Safety Fence
For use around fireplaces and outdoor grills

Door with handle for easy access

Adjustable wall mount hardware

Heavy-duty tubular steel

Overall fence width: 122″
This fence will allow you to keep you entire fireplace, grill or stove area safe from children. It surrounds and provides maximum safety for use around fireplaces and wood burning stoves of any shape or size. It can be installed in areas that don't have mounting points straight across, making it customizable to fit your needs. It's light-weight, sturdy and easy to assemble. Includes a door to make it easy for you to have access to your fireplace, or grill.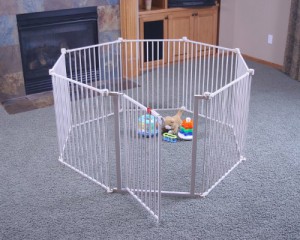 Regalo 4 in 1 White Configurable Fence
Includes 8 removable and configurable panels that enclose 19 sq. feet

Expands to become a 192-inch wall mounted gate or free standing barrier

Convenient walk through design with safety locking feature

Folds down for easy set up and storage 

All steel durable design

Juvenile Product Association Certified

Space between the bars (slate size) is 2.5 "aprox.
Regalo 4 in 1 Metal Play Yard encloses a large 19 square feet area. The Regalo can be configured into many shapes and sizes to fit your needs. Not only can it be used as a Play Yard, but also converts to a fireplace guard, gate enclosure for extra wide openings, stairway barrier or christmas tree protector. Includes all hardware.  This great little fence would secure your heater…or it can be a playfence for kids or dogs.